Center for the Study of Human Trafficking and Modern Slavery
"Advancing Learning and Seeking Solutions"
The Center for the Study of Human Trafficking and Modern Slavery at the University of Central Florida – supported by the Human Trafficking Fund of the UCF Foundation – is housed in the College of Sciences and administered in cooperation with the Global Perspectives Office. It responds to the growing human-trafficking problem in Central Florida, the United States and around the world.
The Center seeks to expand the understanding of human trafficking in a comprehensive, interdisciplinary context, and search for solutions through coursework, research, distinguished speakers, student fellowships, survivor scholarships, partnerships, international professional exchanges and community engagement.
The Center incorporates the work of The Human Trafficking Awareness Program, which was launched as an initiative by the Global Perspectives Office in 2003 with a national forum called "Slavery in the 21st Century." Click here to read a press release about the creation of the center.
Program Director
Roberto Hugh Potter, Ph.D.
Professor, Criminal Justice
roberto.potter@ucf.edu
Advisory Board
Patricia Ambinder, Chair, Peace and Justice Institute Advisory Council, Valencia College
Kevin Bales, Professor of Contemporary Slavery, School of Politics and International Relations, University of Nottingham, UK
Francis Bok, Abolitionist and former Sudanese child slave
David William Boone, In Memoriam, President and Founder, Civil Lawyers Against World Sex-Slavery (CLAWS)
Amb. Luis C.deBaca, former U.S. ambassador-at-large to Monitor and Combat Trafficking in Persons
Tricia Connelly, Producer, WUCF TV
Amb. Harriet L. Elam-Thomas, Director, Diplomacy Program, UCF
Bridget Holt, Director of Advancement, Burnett Honors College and College of Undergraduate Studies
Richard Lapchick, Chair, DeVos Sport Business Management Program, UCF
Tomas J. Lares, Founder and Executive Director of Florida Abolitionist, Inc.
Ted Reynolds, Visiting Lecturer on Intelligence and Terrorism, Political Science Department, UCF
Maria Cristina Santana, Director, Women's Studies Program, UCF
Alisa Smith, Chair, Department of Legal Studies, UCF (interim director)
Ron Soodalter, Abolitionist, co-author (with Kevin Bales) of The Slave Next Door: Human Trafficking and Slavery in America Today
Videos
Click here for a full list of related Global Perspectives videos.
Related News and Events
Click here for a list of recent and past events supported by the Human Trafficking Awareness Program at UCF. Click here to read news articles and blog posts related to human trafficking and modern slavery.
Francis Bok Human Trafficking Awareness Fellowship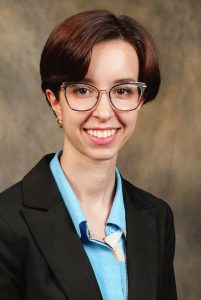 The Human Trafficking Awareness Program at UCF provides an opportunity for an outstanding undergraduate (at least junior level) or graduate student from UCF to serve as a Francis Bok Human Trafficking Awareness Fellow each semester. Click here for more information about the fellowships we award.
The Fall 2019 Francis Bok Human Trafficking Awareness Fellow is Eleanor M. Knight. She is a senior at the University of Central Florida pursuing an undergraduate degree in Anthropology, with minors in Anthropological Archaeology and Asian Studies. Her research interests include refugee flow, climate change, and current environmental impacts of coastal occupation. Upon graduation, she plans on pursuing graduate studies. A student of Korean, with proficiency in Spanish and Japanese, she has traveled to ten countries, and done archaeology fieldwork in Turks and Caicos. To learn about other past fellows and scholars, click here.