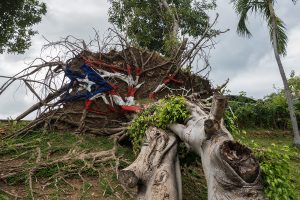 Disasters such as floods, earthquakes, wildfires, and hurricanes, along with other humanitarian emergencies, continue to increase in frequency and impact. Indeed, a report by the Centre for Research on the Epidemiology of Disasters revealed that in 2018, there were 315 reported natural disasters affecting over 68.5 million people worldwide. These disasters resulted in the loss of 11,804 lives and $132 billion (USD) in economic damage. Countries in all corners of the world continue to endure new and terrible disasters, each subsequently described as "unprecedented." Examples range from the devastation of Hurricane Maria in Puerto Rico, Hurricane Dorian in the Bahamas, cyclones, extreme heat, water scarcity, desertification, dust and sandstorms in the Middle East and North Africa, and the current COVID-19 emergency.
In response to these catastrophic events several commissions, taskforces, and other groups have convened to address lessons learned and propose policy recommendations and implementations. A major response is the adoption of resilience frameworks, across all levels of governance, to address how to be prepared for impending emergencies. These include resilience offices throughout cities and states in the United States, such as Orlando, Florida and  Colorado, United States Federal Government initiatives such as the Disaster Resilience Framework, United Nations initiatives in vulnerable climate change places like Egypt, and Global Facility For Disaster Reduction and Recovery programs in disaster-prone in Arab regions such as Morocco. While these initiatives are a step forward and provide guidance in promoting resilience to respond and prepare for "unprecedented" events, there are still issues that need to be overcome.
One particular issue is governmental trust. In studying resilience in Florida, in their 2015 book, "Disaster Vulnerability, Hazards and Resilience: Perspectives from Florida," Rivera and Kapucu interviewed emergency managers throughout the Central Florida region. One recurring theme that was discovered in the analysis of a focus group interview was governmental distrust. As one participant noted:
"I think there's a general mistrust of government until something bad happens and then everybody turns to government at one time. And I think in the last few years it's gotten worse too. Because you know, it's like kick government time. And it has been for a while. You know, and it's been across the country, and it's until something happens and then they go 'please, help us!'" (page 90)
Indeed, a report from the Pew Research Center shows that the percentage of people who trust Washington always or most of the time has steadily declined from almost 50% in December 2001 to a low of 17% in March 2019. Furthermore, Americans have the least confidence in Members of Congress to care about others or "people like me," provide fair and accurate information to the public, and handle resources responsibly. Distrust in government is not an isolated United States phenomenon, according to a report by the 36 country members of the Organisation for Economic Co-operation and Development, which found only 43% of citizens trust their government.
Unfortunately, there can be valid reasons for declining trust in government. For example, the perception that the governmental response in Puerto Rico after Hurricane Maria was mired in corruption, nepotism, and information withholding was confirmed after electronic communications, from then-Governor Rosselló cabinet members, surfaced in the media. The communications were laced with profanities, jokes about political opponents, journalists, and others opposing the government. These conversations surfaced after the United Stated Federal Bureau of Investigation arrested the Puerto Rican Education Secretary, the former Health Insurance Administration head, and other Department of Education contractors, and charged them with 32 counts of fraud. The indignation with the electronic messages and the government's inefficient response to Maria resulted in massive protests that resulted in the resignation of Governor Rosselló in August 2019.
The total loss of trust in the government that resulted from these events continue to shape the response of the current government of Puerto Rico to the seismic activity experienced on the island earlier this year and the current COVID-19 emergency. Allegations of lack of transparency in the distribution of supplies, number of reported cases, and hastily signed contracts continue to plague the public's perception of how the government handles emergency situations.
In the absence of governmental trust, communities are force to fend for themselves, which exacerbates pre-existing vulnerabilities and socioeconomic conditions. In most instances, this results in disproportional consequences for communities that do not have the necessary resources to respond to and recover from an emergency. The inability to respond can have profound economic and social effects that makes it difficult to implement resilience measures.
Governmental trust, like interpersonal trust, takes years to develop. In light of disasters and global emergencies that seem to be fueled by climate change and characterized by elevated intensity, it is imperative to reassure the public that those in charge of responding to crisis will do so. Governments no longer have the luxury of time to rebuild trust, and now is the moment to recognize that past disasters and emergencies have clearly shown they cannot be seen as "unprecedented" events, but as realities that governments need to prepare for.
*****
Dr. Fernando Rivera is a Professor of Sociology and Director of the University of Central Florida Puerto Rico Research Hub. Dr. Rivera studies the sociology of health, race, and ethnicity and the sociology of disasters – resiliency and the importance of social and economic indicators in preparedness, mitigation, response, and recovery. 
This article was written as part of the Addressing Global Crisis Project (AGC), which is run by the University of Central Florida's Office of Global Perspectives & International Initiatives (GPII). AGC examines how governments, individually and collectively, deal with pandemics, natural disasters, ecological challenges, and climate change. AGC is organized around five primary pillars: (1) delivery of services and infrastructure; (2) water-energy-food security; (2) governance and politics; (4) economic development; and, (5) national security. Through its global network, AGC facilitates expert discussion and features articles, publications and online content.