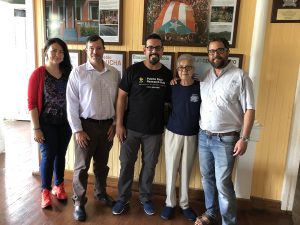 Since we do not have direct flights to China, the Puerto Rican Secretary of Health, who has since resigned, maintained in early March that the Island was free of COVID-19. The recently dismissed state epidemiologist affirmed at the time that while there were cases in Italy, it was only because "they were nearby" China, not us.
Faced with denial, irrational behavior and total lack of preparedness, in a colonial territory with a non-elected Fiscal Control Board, plunged in economic depression for more than a decade, recently hit by Hurricane Maria and early this year by earthquakes, Puerto Ricans awoke to the reality of not having a functional Health Department in the face of the most lethal global pandemic in their lifetime.
Without pressure from local doctors like Fernando Cabanillas, scientists and the press, the government would have continued to limit COVID-19 testing. Without evidence, the government suggested Puerto Rico was a COVID-Free Zone – no tests, no virus. Of course, this reality changed with the first test results, inducing the governor to impose a curfew on March 15. This curfew has since been extended two additional weeks, at least until May 3, with more restrictive and punitive measures strengthening its bite.
In the process, the government turned to experts from the University of Puerto Rico's Medical Sciences Campus for advice. Amidst chaos, the participation of this esteemed institution has served to restore some credibility to a deceptive government at a time of crisis. However, the battle to contain the pandemic continues to be undermined by a tainted process, characterized by political intrigue and opaque business dealings rife with corrupt purchase orders.
Some suggest that at long last San Juan is ruling the island free of federal control. However, with President Donald Trump's hands full due to an underestimated and out of control pandemic on the United States mainland, Puerto Rico ranks low on the White House list of priorities. Even without 'direct' intervention, Washington-imposed austerity measures as well as regulations, from the acquisition of CDC-approved tests and respirators to ocean freight rules, hinder the Island's ability to respond to COVID-19.
People have been confined to their homes, as far as is practical. But social inequality with prevailing poverty levels prevents many from remaining in confinement indefinitely. For its part, the government does not harness its emergency powers solely for health measures. For example, the "success" of the Police is measured in the number of interventions and arrests. Instead of maintaining physical distance, the Police intervenes and arrests people who ride bicycles to the market – not by one police officer, but by having 10 arrive within minutes to detain an alleged offender. They routinely impose fines of $5,000 on a population that already has serious resource problems, intimidate people already in a state of anxiety whenever they walk their pets or confiscate vehicles "illegally" driven during curfew. In other words, if one goes to the pharmacy because they have the money available on a certain day to pay for medicine, or for food in a car whose license plate ends with a number deemed illegal to travel on that specific day, the Police intervenes. If one makes food for older adults who rely on it for survival every day, they must effectively smuggle it, anxious not only about the virus but being treated as a criminal for violating an absurd decree.
So far, the police crackdown has led to 630 arrests and more than 1,500 interventions, with fines exceeding $1 million. Yes, in Puerto Rico metrics measuring coronavirus response shows more police activity as measured by arrests and interventions than positive test results. Instead of supporting a population suffering through a pandemic, police officers are zealously focusing on enforcement. One result is that police officers represent 4.4% of all positive COVID-19 cases, with more than 800 officers currently quarantined. Considering the police force does not represent even 0.3% of the total population, the police infection rate is 15 times higher than the general public. This preventable reality means that the police force has not respected the social distancing guidelines – at least between themselves and the public. Today, the police sadly represent a potential focus of contagion not only in the communities where they work, but to their hometowns and families.
It is essential to address the crisis of the pandemic with practical health measures that prevent infections and meet the other needs of those confined to home without aggravating the situation. For example, it is important to guarantee a minimum of mobility in open spaces to families who have children, reduce the exposure of people in closed spaces such as buildings where respiratory ailments are incubated by physical isolation, prevent weakening of the immune system of people locked up, and of course, not sparking a mental health crisis in a population already susceptible to PTSD from hurricanes, earthquakes and past abusive policies and practices.
This is the time to integrate new strategies of prevention, to re-engineer spaces and procedures to reduce exposure times with more agile and efficient services. Still, I prefer to be in Puerto Rico rather than New York, where the Latino and African American populations suffer disproportionately from the pandemic, highlighting the stark consequences of systemic discrimination and inequality. We are not immune to that either but have lived through a seemingly permanent period of crisis on the Island, and we have survived through social action. When the curfew is lifted, the social action approach, albeit with physical distance, will once again be our true lifeguard.
*****
Arturo Massol Deyá is the President of the Board of Directors of Casa Pueblo de Adjuntas and professor of microbiology and ecology at the University of Puerto Rico at Mayaguez. Casa Pueblo de Adjuntas is a community-based group with 40 years of services in natural resources conservation, education, and sustainable development.
This article was written as part of the Addressing Global Crisis Project (AGC), which is run by the University of Central Florida's Office of Global Perspectives & International Initiatives (GPII). AGC examines how governments, individually and collectively, deal with pandemics, natural disasters, ecological challenges, and climate change. AGC is organized around five primary pillars: (1) delivery of services and infrastructure; (2) water-energy-food security; (2) governance and politics; (4) economic development; and, (5) national security. Through its global network, AGC facilitates expert discussion and features articles, publications and online content.