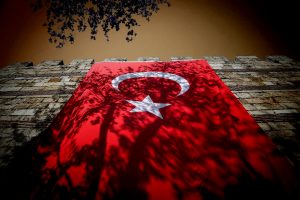 Before Turkey's executive presidency was inaugurated in 2018, President Recep Tayyip Erdogan repeated a pledge he had made on the campaign trail to rally support behind his long-term vision of changing the country's parliamentary system to a presidential one. He promised to speed up the functioning of the state and make it more efficient. The subtext was that the presidential system would sideline the cumbersome bureaucracy, centralize decision-making in Erdogan's hands, and thus allow him to address the country's pressing problems more swiftly. Nearly two years on, it hasn't quite worked out that way. The presidential system under Erdogan has indeed sidelined the bureaucracy and centralized all power in his hands, but it has failed to respond to the country's problems effectively. The Coronavirus pandemic is only the latest proof of that. The government's response was clumsy and guided by Erdogan's instincts to polarize society, punish his opponents, and further consolidate his power.
Like his fellow autocrats, Erdogan initially downplayed the threat of the Coronavirus. He waited a week after the first domestic COVID-19 case was confirmed to appear before cameras to address the crisis. In his speech, instead of announcing measures deemed necessary by medical experts to curb the spread of the virus, he unveiled policies designed to bolster the economy, even describing the pandemic as an opportunity for Turkish manufacturers as global companies seek to shift production away from China.
As he exuded total control over the pandemic, Turkey's infection rate became one of the fastest growing in the world. Erdogan gradually introduced tougher measures, shutting down all international arrivals, restricting domestic flights, and setting up road checkpoints outside cities to prevent non-essential travel.  Schools, cafes, nightclubs, and barber shops were closed, sporting events and prayers at mosques were cancelled. The government imposed a curfew on people over 65 and under 20, exempting most of the workforce as Erdogan sought to keep the country's troubled economy on track.
Even as the number of cases soars, Erdogan has resisted calls to order a national lockdown, which is a key demand of the opposition. The opposition Istanbul mayor, Ekrem Imamoglu, a rising star within the Republican People's Party (CHP) who is seen as a possible future candidate for the presidency, has led the calls for a national lockdown. Erdogan fears such a move would halt all economic activity, dealing a blow to the country's already flailing economy. But he also does not want Imamoglu and the opposition to take credit for introducing the idea.
Instead, Erdogan insists on taking small, gradual steps. He recently ordered all citizens to wear masks when shopping or visiting crowded public places at a time when masks are in short supply. Government officials said the masks would be available for sale, only to retract that statement after opposition mayors started distributing them free of charge. Erdogan later barred the sale of masks and pledged they would be distributed for free, but people complain they have still not received them and are banned from public places such as grocery stores without them.
The clumsiest attempt by the government came last Friday. In a move that surprised many, Turkey introduced a weekend Coronavirus lockdown in 31 cities two hours before it took effect. Thousands rushed to stores to stock up on goods, many of whom were not wearing the mandatory face masks. Images of crowded streets prompted criticism of the government's execution of the lockdown, leading to the resignation of Interior Minister Suleyman Soylu, which was later rejected by Erdogan.
Erdogan's response to the Coronavirus outbreak has been inadequate. He kept borders open too long and failed to order a national lockdown or impose quarantine on most Turks returning from abroad because his number one priority is to protect the economic foundations of his rule. He wants to keep the wheels of the economy turning, with little regard for the lives of those who make that possible. In the $15 billion stimulus plan he announced, only $300 million is earmarked as a one-time payment to families in need. Instead, he is asking citizens to make donations to support those who have been affected by the outbreak.
Efforts to craft an effective response have been hindered by Erdogan's desire to undermine opposition mayors. Istanbul mayor Imamoglu launched a donation campaign in an effort to help those in need. The government said the campaign was illegal, threatened to prosecute those involved, and blocked donation accounts run by CHP-run municipalities, all while overlooking similar campaigns by municipalities under the control of the ruling Justice and Development Party (AKP). The efforts of CHP-run municipalities to deliver bread and free meals were also blocked by the government while Erdogan moved swiftly to launch a rival campaign and promised seven months of his salary to the cause.
Erdogan has also used the distraction provided by the pandemic to clamp down on his critics and further consolidate his rule. More than 300 people are being investigated for "provocative" social media posts about the disease, with at least 64 arrests. They include a high-profile TV anchor who wondered if the government might go after individuals' bank accounts to fund efforts to mitigate the economic impact of the outbreak. After Coronavirus cases were confirmed in Turkey's prisons, the country's parliament approved a new law that would release 90,000 inmates, including Erdogan supporters, but not journalists, academics, and activists who are critical of him and were jailed for their political views.
In the midst of the fight against the virus, the government held its first tender to prepare to build a huge canal on the edge of Istanbul, a project that has been on hold since 2018 and widely criticized for its cost and environmental impact. The transport minister has since been replaced by Erdogan in what is seen as a pullback amid mounting criticism.
Once touted as the most effective system to address Turkey's problems, Erdogan-style presidentialism has become a hindrance to dealing with one of the country's biggest challenges. Hollowed out institutions, lack of expertise, and rule by an autocrat and his band of yes men might have been effective at silencing critics but may be of little use when it comes to curbing the spread of a deadly virus.
*****
Dr. Gönül Tol is the founding director of The Middle East Institute's Center for Turkish Studies. She is also an adjunct professor at George Washington University's Institute for Middle East Studies.
This article was written as part of the Addressing Global Crisis Project (AGC), which is run by the University of Central Florida's Office of Global Perspectives & International Initiatives (GPII). AGC examines how governments, individually and collectively, deal with pandemics, natural disasters, ecological challenges, and climate change. AGC is organized around five primary pillars: (1) delivery of services and infrastructure; (2) water-energy-food security; (2) governance and politics; (4) economic development; and, (5) national security. Through its global network, AGC facilitates expert discussion and features articles, publications and online content.