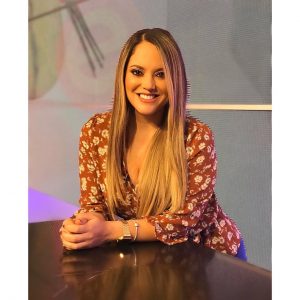 Note: Journalist Veronica Camacho wrote this opinion piece just one day before she learned she lost her job as TV Host at Ecuavisa after working there 15 years. GPII's Katie Coronado subsequently interviewed her about how it happened and what she will do now that she has been impacted directly by this pandemic. Her responses to our questions follow her original opinion piece.  
How the Coronavirus Changed Life in Ecuador 
It has been more than two months since the Coronavirus pandemic caught Ecuador by surprise. No one imagined what the magnitude of this deadly virus would be, or that it would cause the loss of thousands of people in less than a month in our country.
At the end of March, Ecuador had to immediately enter a state of emergency to control the pandemic as much as possible. This was an almost impossible mission since, to this day, there are more than 30,000 infected people nationwide and more than 1,700 people dead.
As Ecuadorians, we are living a harsh reality. We were not prepared as a country, but we had to commit all our economic, medical, infrastructure, human and technological resources to wage this fight, little by little and with pain. Day by day, we are getting used to it, as families from cities around Ecuador stay home respecting the quarantine and following the security norms and new laws. It has led us to live with this "new normality" as something which we must get used to for the time being. Schools and universities are suspended, jobs are done at home with the modality of "teleworking." There has been great economic loss, as many employees have been fired from their jobs due to dire economic conditions – which pre-dated the current crisis. Ecuador has been going through a difficult economic situation for year, but its conditions have worsened as we face this human tragedy called COVID-19. We are now living in a true crisis.
The Impact of the Coronavirus on Ecuadorian Media
The media continues to provide immediate information, and we have had to reinvent ourselves as journalists and use technology as our main ally, communicating with computers and telephones at hand, 24 hours a day. This is the new norm for both news and morning magazine-style TV shows, including their cameramen journalists.  They take turns, week by week, with the respective security measures and routine medical check-ups. All this to be able to report the news on a daily basis while fighting to keep their jobs. Some are doing it from home, and others live from the TV studios. But little by little, and depending on the needs of each production department, the team is beginning to reintegrate to the physical workplace.
On the other hand, other television, print and radio channels, due to the health emergency, have been forced to cease their regular programming, and dismissed show hosts and reporters from their media outlets.
This virus has brought us to the maximum point of fragility as Ecuadorians, and has invited us to see this crisis as an opportunity to rise despite the harsh reality. It has been evident during these two months of confinement that the media have been the window to the world to show how Ecuadorians have had to face this pandemic with the little or no resources. And the media has had to do so while complying with the new laws and restrictions imposed by our government, especially regarding mobility with the so-called "curfew" that prevents Ecuadorians from going to their jobs in an effort to stop the virus from spreading. This has resulted in unexpected resistance from many citizens, since when they do not work, they do not have enough to eat and provide for their families.
State of Emergency Continues
We have had to face a sad reality with great strength, resignation, conscience and faith that soon all this will be in the past and we will return to normalcy, a post-COVID reality of life. Meanwhile, we must continue to stay strong. For now, Ecuador will remain in state of health emergency until May 24.
Q & A with Veronica:
Q: We know you lost your job last week. We are sorry to hear that and wish you continued success. What are your plans now? And how did you find out about this change?
Veronica: As I mentioned, I had to do all of my reporting from home. As most reporters, we edited and conducted interviews remotely. For example, I have my son who is a toddler, so I would cover stories of interest to moms. There are many media outlets going through this crisis. Because many advertisers aren't buying airtime, this has caused a domino effect in our industry. So, I was notified of my layoff a week ago. They let go of 95 employees. As you can imagine, there were two large television studios and the company had to shut them down. They only have one studio open now. It's a smaller place. It was a very difficult situation. I had worked at Ecuavisa 15 years. During those 15 years, I had the opportunity to do a little bit of everything. I worked on investigative stories, community relations, social justice and tips for moms. I did everything and was able to be versatile. I was able to learn a lot at the station. That helped me a lot in my career. I edited, announced, wrote and shot my own work. I had to produce my own stories. I was very resourceful. But I know what is happening at this time (the layoffs), it is necessary due to the situation in our country. It was bound to happen. But, I am very optimistic. I like to reinvent myself. As I mentioned, this company taught me so much, I started there when I was 20 years old. It was great for my career. I would like to return to work in the media industry, although I know that may not happen for a while because of the current situation. Many channels have had to shut down. Shows that have been on the air for years have had to stop production. Another example of what's happening in Ecuador is that there were three news broadcasts a day at my station, now there is only one – the one that airs in the afternoons. The show I worked on, En Contacto, is still on the air, but with fewer resources and fewer people. It is much more difficult to communicate this way.
Q: What's next for your career?
Veronica: I think that reinventing ourselves is important. Our ally is social media, the internet and cell phones. Television is losing that power it once had because we can see everything on our cell phones. Social media is where most people get their information – Twitter, Instagram, and many social media channels are our allies when we want to reinvent ourselves. In my situation, I am always thinking positively. I have a lot of faith in God. I believe that helps me a great deal. My spirituality helps me. And, I did not solely depend on my income from my job in television. Perhaps in the future, TV may die. People are on their cell phones more than watching television these days so knew I had to do something. I was able to reinvent myself by opening a clothing store with my sister in law. This was originally for extra income. I also manage my social media channels. I have more than 350,000 followers, and this has helped my television career. I have earned recognition from my audience and this is helpful. I have formed partnerships with many people. I have a space I call "Vero-Tips" which is aimed at moms. I now want to achieve financial independence. I currently have some advertisers that are marketing their products on my social media channels. These last two months, many companies have hired me to shoot and produce videos and do freelance work. It is about how you move your social media and adapt to the needs. I also use my social media to promote the clothing store. This is a great way to make more income. I manage my image well, and working from home is helpful for me at this time. The way I captivate my audience is by being a motivator, inspirational and of a positive mindset.
*****
Veronica Camacho worked as a TV newscaster at Ecuavisa, one of the leading Ecuadoran networks, for 15 years. At Ecuavisa, she was a host for "En Contacto," which focused on social and lifestyle issues. Additionally, she is a co-founder of Sweet Trendy by Vero, a clothing store and fashion line.
This article was written as part of the Addressing Global Crisis Project (AGC), which is run by the University of Central Florida's Office of Global Perspectives & International Initiatives (GPII). AGC examines how governments, individually and collectively, deal with pandemics, natural disasters, ecological challenges, and climate change. AGC is organized around five primary pillars: (1) delivery of services and infrastructure; (2) water-energy-food security; (2) governance and politics; (4) economic development; and, (5) national security. Through its global network, AGC facilitates expert discussion and features articles, publications and online content.