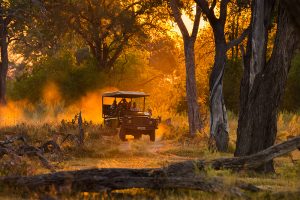 The Botswana tourism sector faces many threats ranging from climate change, humanitarian crisis and health issues, the current Coronavirus disease 2019 (COVID-19) being a case in point. It does not come as a surprise that the sector has not escaped the brunt of the global pandemic considering that it involves interactions among people. The United Nations World Tourism Organisation (UNWTO) anticipates a 20-30% decline in tourist arrivals and further observes that Small, Medium and Micro Enterprises (SMMEs) will be particularly impacted. The SMMEs make up around 80% of the tourism sector globally. In southern Africa, the sector has seen a dip in volumes/traffic of visits and business across airlines, travel agents, hotels and tourist destinations.
Botswana first recorded its first three confirmed cases of COVID-19 on March 30, 2020. As of May 16, there were 25 confirmed cases, seven of which are active, 17 recovered and 1 death. Even though the disease spread in Botswana is low compared to other countries, the economic repercussions have been far reaching with the tourism sector among the hardest hit. This is worrisome considering that the sector is the second largest revenue earner in the country. Dependence on the international market has made the sector vulnerable to the effects of the disease outbreak, as the main countries from which tourists originate were among the most affected by the global pandemic. Of the 1.8 million tourist arrivals recorded in 2017 in Botswana, 84% were from Africa while the remaining 16% were from overseas (USA, Germany and UK). However, the revenue from overseas far outweighs that from the African continent due to the country's high value, low volume tourism strategy.
Due to the fact that travel and tourism go hand in hand, the sector started feeling the pinch as soon as international travel restrictions ensued and countries around the globe started imposing entry bans, especially for citizens of or recent travellers to the most affected areas. According to a snap survey conducted by the Local Enterprise Authority (LEA) covering 382 SMMEs, the tourism sector suffered a 72% revenue loss in March 2020. Furthermore, of the 382 SMMEs surveyed, 209 had loans and the tourism sector accounted for 61% of the loan balance. This paints a bleak future for the companies should they not prove resilient to bounce back post-COVID-19.
Specifically, the industry has suffered loss of revenue, failure to service bank loans, failure to finance operational costs such wages and rent payments, as well as loss of opportunities aimed at community development. It is therefore evident that the underlying driver of these problems is loss of income by the travel and tourism operators. The SMMEs are mostly hard hit since their working capital is largely financed through prepaid bookings. Consequently, as clients cancelled their bookings, they demanded refunds which companies could not afford. Furthermore, most tourism businesses operate on bank loans which need to be serviced monthly in addition to other expenses such as staff salaries and other bills. Therefore, loss of revenue resulted in some operators not being able to honour their contractual obligations with their financiers. Some travel and tourism SMMEs operate from rented facilities and lack of income has resulted in some being unable to meet their contractual obligations with landlords. Some companies have had to release their staff due to lack of business. While some sectors may easily have staff working from home, this is not plausible in the tourism sector because of the nature of the business which requires physical interaction with the clientele.
With regard to loss of opportunities for community development, following the hunting ban of 2014 which resulted in loss of income for communities involved in the Community Based Natural Resources Management (CBNRM) program, in 2019 government made a research-based informed decision to lift the hunting ban. Safari hunting forms part of consumptive tourism and communities had already made agreements with international safari hunting operators to take advantage of this year's hunting quota. However, this opportunity has failed to materialize given global travel bans. In an April 27 press statement made by the CEO of the Botswana Tourism Organisation, he noted that hunting may only take place towards the end of the year, or even next year to allow Community Trusts and their clients to honour their agreements. This has dealt a significant blow to tourism-dependent communities in northern Botswana, especially in areas where photographic safari has proven unprofitable. Their livelihoods had dwindled following the loss of revenues incurred when consumptive tourism was affected by the 2014 hunting ban.
As countries begin to open their economies, there is a delicate balance between saving lives and rebooting the economy. The UNWTO perceives tourism as a key sector that will support livelihoods and create opportunities for millions of people around the globe in the post-COVID-19 world – and is in-line with the global sustainability agenda. Not only is COVID-19 a health challenge, but a social and economic emergency. Therefore, there is need for tourism-dependent countries to put in place mitigation measures to curb the socio-economic impacts of the pandemic. The UNWTO encourages countries to prepare to recover from the effects of the pandemic by pursuing the following areas: managing the crisis and mitigating the impact; providing stimulus and accelerating recovery; and, preparing for the future. The government of Botswana has already laid the groundwork along these mitigation areas.
The Botswana government introduced some economic and fiscal relief initiatives in response to COVID-19; the tourism sector is eligible to benefit from this assistance as part of managing the crisis and mitigating the impact. Among other things, assistance aims at supporting workers and stabilizing businesses. Immediate measures include an establishment of the COVID-19 Relief Fund. Among the immediate needs that will be addressed using the funds are wage subsidies for companies that have been affected by the pandemic. The wage subsidy covers 50% of the basic salary of employees between BWP 1,000 and BWP 2,500 (USD84 and USD208 respectively) per month from April to June. The aim is to retain jobs as much as possible considering the already high employment rate in the country, which prior to COVID-19 stood at 20.7% in 2019.
As part of managing the crisis, government also introduced a "do not cancel but postpone strategy" where pre-booked clients were encouraged to postpone their trips instead of cancelling them altogether. In order to provide stimulus and accelerate recovery, government introduced a loan guarantee scheme for 24 months, up to a maximum of BWP 25 million (USD2 million) per business. Post-COVID-19 plans include an economic stimulus package to boost the economy from which the tourism sector will also benefit. It is however estimated that some subsectors of the tourism sector may take a year or more to recover.
There are some lessons to be learned as the industry prepares for the future. These include the importance of insurance that covers business interruptions caused by public health crises. Clearly, a dialog is needed between the tourism industry and the insurance sector which currently concentrates on insurance which only covers physical damage caused by disasters such as floods and fires.
*****
Dr. Wame Lucretia Hambira is a Senior Research Scholar with the Okavango Research Institute of the University of Botswana. She holds a PhD in Geography (tourism & climate change) from the University of Oulu, Finland, and an MSc in Environmental Economics, University of York (UK).
This article was written as part of the Addressing Global Crisis Project (AGC), which is run by the University of Central Florida's Office of Global Perspectives & International Initiatives (GPII). AGC examines how governments, individually and collectively, deal with pandemics, natural disasters, ecological challenges, and climate change. AGC is organized around five primary pillars: (1) delivery of services and infrastructure; (2) water-energy-food security; (2) governance and politics; (4) economic development; and, (5) national security. Through its global network, AGC facilitates expert discussion and features articles, publications and online content.