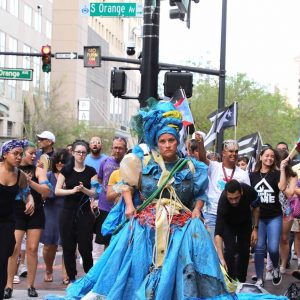 Tell us about yourself in a nutshell. What would you say makes your work unique?
I am an interdisciplinary visual artist and UCF Associate professor of studio art. What makes my art unique? I move between disciplines -drawing, sculpture, video and live performance- to best get my points across instead of only working in one medium. This is much more common these days in the art world. My work is where I dissect the world around me, my own demons, fears, traumas in hopes that my struggles laid bare to the public might be of help to someone else.
I use my work as a way to connect with folks that probably don't expect to be considered art viewers, folks of the diaspora, the 'hood, like me. I move as an artist and as an agent for change, which inspires my work. Those that don't think they are seen, heard or considered valuable. I see you. I know you.
What motivated you to choose this career?

That feeling of being unseen, not valuable either because of nationality, appearance, class, etc., and of being erased really pushed my need to make art and to claim as much space as I could in a creative way. I have always made some kind of art and am attracted to the arts -music, dance, performance, visual art- so it is a natural fit for me. Besides, I have tried to make a living in non-creative fields. It was soul-crushing. This is the best (and only) option for me!
This forward-thinking art would not have been accepted not too long ago. Do you think things have changed with people's perceptions related to what you do and represent?

I am not entirely sure that my work is largely accepted, honestly, but I do have admirers of my gestures. Since my work addresses some hard social issues, I am fairly certain that some people shy from it because it makes them uncomfortable or vulnerable. With that being said, I do believe that there has been change in our society and that there are people that are glad to see that I make the work that I make. It all goes back to making sure that things are seen. My work is a platform for visibility, a place where I can try to make a change in the narrative of injustice.
What are you currently working on…can you explain your current projects? What do they symbolize? What is the importance on a grand scale?

I am working on a new body of work that consists primarily of drawings and sculptures that feel like mutations of my earlier work. The drawings of hair, flowers, fibers, shoes, twisting and morphing or consuming each other how I am addressing what I am feeling like right now. As my thoughts about femininity, blackness, politics, race, motherhood, sexuality, aging, industrialization collide, I am feeling extremely restless in those spaces. I am shedding my own old skin and seeing that correlation with nature and how we try to dominate it and claim peace in the same breath. We cannot. Not until we learn that we need to lean into nature and move alongside it, respecting its raw power. I think that the current civil disobedience movement that we are witnessing now is in line with this principle. These things cannot be dominated.
Nature will always find a way. It will twist, burst, consume, degrade, cross pollinate… but it will always survive.
What message do you want your audience to get from your current project?
The bulk of my work examines several layers of my identity, as an Afro-Latinx identifying stateside born Puerto Rican from New York City. There are so many intricacies amid those intersections that in order to tackle them I have to break these large issues into smaller pieces and dissect them independently of each other. With that said, the overarching connector to this exploration of identity is tangled, metaphorically and actually, in hair politics. I am currently working on drawings of hair, knots, twists, tangles as a way to closely examine our inherent bias toward "pelo bueno" (good hair) vs "pelo malo" (bad hair). I am drawing connections to nature, mutations, femininity, toxicity, aging, decay. Also, nature won't stop. Nature will always find a way. This pandemic and other recent natural disasters have revealed how far away from nature we are and how fragile we have made ourselves. I am hoping that we are able to learn to move alongside nature, alongside our fellow humans and lean into what is natural, peaceful and generous. Anything that is bound by force will not stay that way.
Do you think the current climate in our country can benefit from your work? If so, how?
At this moment as I draft these responses, we are in the midst of a massive American uprising regarding systemic racism and police brutality. We are seeing the best and worst in humanity and the American people are demanding reform to the underlying narrative that black lives don't matter as much as white lives. Global warming is real. Science doesn't lie. Mother Nature is showing us her raw power and we need to listen. We are being called upon to face our collective demons and push bravely through years of oppression, suppression, willful blindness, politically motivated maneuvering of communities through gerrymandering and flagrant bigotry to forge a country that truly represents that "all men are created equal." There is plenty of resistance and it's all over the internet and in person.
So… can the country benefit from my work? I would say absolutely. Yes.
What do you hope people take away when they learn about your work overall?
I want people to know that my work is not accidental. My moves are thought out deeply and with great consideration before they go out into the world. Some of the work is very confrontational. I meant it to be that way. With that said, I want people to check within themselves if they have anything that needs to be reconciled, soothed, or perhaps propped up. I think there is something for everyone in the work, although they might not see it right away. Maybe they'll be haunted by an image, forced to acknowledge something or feel comforted.
You use words in Spanish to describe your art sometimes. Why? What if people don't speak Spanish – and they don't understand the meaning? For example, Chuleta …do you feel this excludes people from learning about your work? 
Yes, I use Spanish, Spanglish and whatever feels natural for my work. Honestly, I have learned many ways to communicate as a form of survival in this country, for example, the ability to code-switch from my more natural Nuyorican urban Spanglish to standard English if the need calls for it, say… being pulled over by the police, etc. Is the practice of not always offering English translations to viewers exclusionary? To some, perhaps. I don't think it is a bad thing for people to do a little bit of work to understand me and meet me where I am. The expectation that people present things entirely in English is, in itself, privileged, especially in a place like the US, built on the idea of being a nation of many.
It puts the burden on the "other" (me) to do all of the work and simplify the process for the viewer, and I don't think what I am asking is too difficult. I have had to learn names of "important" things that aren't necessarily connected to my immediate life because it is part of the dominant culture. Aside from the fact that I am naturally curious about things, I think it is a valuable asset to learn about many cultures and treat them with respect accordingly. Honestly, in this digital age, you can translate anything. If you really want to know what some of my Spanish words means, google it. If you can google Tchaikovsky, you can google Chuleta.
As an artist, do you consider yourself an advocate? If so, for what?
I consider myself an agent for change, an advocate for young people of color and/or members of the LGBTQ community to see themselves represented more fully in academia, in art and in media. I am an advocate for justice for Puerto Ricans both on the island and here. I am committed to my Afro-Latinidad. I truly, deeply believe that Black Lives Matter. There are serious flaws in our society that must be completely acknowledged, reckoned with, overhauled and restructured for us to move forward. My art helps me create pathways of understanding to communicate these beliefs.
How has your Puerto Rican heritage impacted your work?
I am very proud of being Puerto Rican, even though I was not born on the island. Like the poet Mariposa said, "No naci en Puerto Rico, Puerto Rico nacio en mi (I wasn't born in Puerto Rico, Puerto Rico was born in me)." I was raised as a Puerto Rican that happened to be born in the States and am a first-generation stateside Boricua that is painfully aware of the effects of cultural and social erasure. I use my work as the vehicle to keep our presence known, to honor my parents, our island, our culture and the resilience to shine so brightly under the weight of US occupation, possession and exploitation of our people.
Who have been some of your mentors or artists you have admired the most?
Pepon Osorio, Juan Sanchez, Frida Kahlo, Kara Walker, Whitfield Lovell, Albrecht Durer, Francisco Oller, Tania Bruguera, Papo Colo, Maria Magdalena Campos Pons, Awilda Sterling, Wangechi Mutu, Lauren Fensterstock, Abigail Deville, Elia Alba, Emma Amos… there are too many to name, so I am keeping it short.
 What have you been doing during this pandemic? Has this influenced your work?
The sense of unrest and uncertainty have undeniably made themselves present in the work and a new set of drawings, objects and performance-based gestures are brewing. Much like what is happening in our society… the works feel like they are writhing, unstable, unpretty, ready to burst from their bindings.
Any thoughts for those people who don't know your work yet?
*****
Wanda Raimundi-Ortiz, MFA, is a nationally and internationally recognized, award-winning interdisciplinary visual and performance artist. She is an associate professor in the School of Visual Arts and Design at the University of Central Florida. Her latest project, Pieta, debuted at the Knowles Memorial Chapel at Rollins College and was presented as part of the Smithsonian National Portrait Gallery's IDENTIFY: Performance as Portraiture series.
This article was written as part of the Addressing Global Crisis Project (AGC), which is run by the University of Central Florida's Office of Global Perspectives & International Initiatives (GPII). AGC examines how governments, individually and collectively, deal with pandemics, natural disasters, ecological challenges, and climate change. AGC is organized around five primary pillars: (1) delivery of services and infrastructure; (2) water-energy-food security; (2) governance and politics; (4) economic development; and, (5) national security. Through its global network, AGC facilitates expert discussion and features articles, publications and online content.