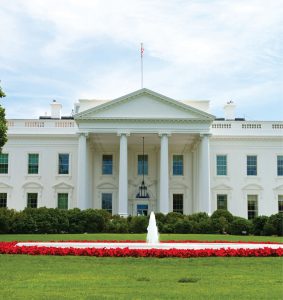 Politics and Governance
How Washington Works and Doesn't Work
October 14, 2020 from 12:00PM to 1:15PM
This public forum was held on Zoom with registration required. The opportunity was provided to submit questions ahead of time. It was also livestreamed on YouTube, posted on UCF Events Calendar, and Facebook, Instagram, and Twitter.
This event was part of the Lester N. Mandell Endowed Distinguished Lecture Series and hosted by UCF Global Perspectives and International Initiatives.
Moderated by WMFE's Matthew Peddie with introductions made by Ambassador (ret.) Robert Mandell and David Dumke, Direct of UCF Global Perspectives and International Initiatives, we had two presenters, the Honorable Andrew Card (former George W. Bush Chief of Staff) and the Honorable Peter Rouse (former Obama Chief of Staff/Counselor).
This event looked into the start of American politics, governance, how presidents set an agenda, and how decisions are made in a highly charged political atmosphere. It also touched on the election with a few questions directed to each presenter about term limits, the 25th amendment, radical/progressive ideologies, electoral college, popular vote, and election year comparisons.
View event recording, here.