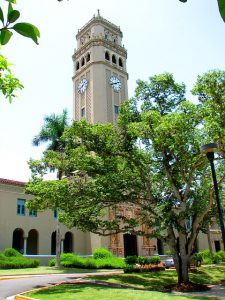 UCF's Puerto Rico Research Hub is pleased to announce the first formal agreement between the University of Central Florida and the University of Puerto Rico. The main purpose of this agreement is to create and expand existing opportunities between both institutions, including a student and faculty exchange program and offering joint sessions of the UCF Urban and Regional Planning program and the UPR Graduate School of Planning.
"Florida, particularly Central Florida, is home to the largest number of Puerto Ricans in the continental US. As such, it is important to continue to foster formal agreements with institutions in PR. I am excited to continue working with my colleagues at UPR and facilitate connections with UCF and the Central Florida community," stated Dr. Fernando Rivera, Director of the Research Hub.
The University of Puerto Rico is among the largest and oldest higher education research institutions in the Caribbean, being founded in 1903. It is the sole Puerto Rican institution to be certified by the Carnegie Foundation for the Advancement of Teaching as a Doctoral Research Intensive University.
UCF's Puerto Rico Research Hub is housed in the UCF College of Sciences and supported by UCF Global Perspectives and International Initiatives. It was established in 2018 and is led by Dr. Rivera. The Hub is the center of activities dedicated to the study of Puerto Ricans at UCF. Its purpose is to Investigate, disseminate knowledge and promote creative solutions to pressing issues affecting the Puerto Rican population, its diaspora and surrounding communities.
Financed by FEMA, current research between UCF's Dr. Luis Santiago and UPR's Dr. Maritza Barreto is being done to assess the resilience of coastal communities after Hurricane Maria. Additional research into the sustainable wood products industry is also underway and is funded by the USDA Forest Service.
"We are excited about the partnership with UPR, one of the most venerable institutions on the island. Puerto Rico is critically important to UCF, and serves as a bridge to the Caribbean and Latin America. This agreement enables Dr. Rivera to continue his work to build UCF into one of the most prominent mainland centers for understanding Puerto Rico," noted David Dumke, Executive Director of the Office of Global Perspectives & International Initiatives.