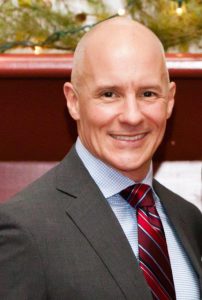 Owen Kirby named UCF Global Perspectives and International Initiatives Non-Resident Fellow
USAID/State Department Veteran Brings Decades of Foreign Policy Experience to GPII
UCF Global Perspectives and International Initiatives (GPII) is pleased to announce that Owen Kirby has joined the team as a Non-Resident Fellow. Mr. Kirby has recently served as the Director of USAID Office of Transition Initiatives (OTI) where he oversaw U.S. assistance programs to nations struggling to build democracy and peace. He is one of the foremost international political consultants with more than 25 years of foreign policy experience working with a range of partners in the private and public sector.
"I am excited to join the UCF family and the UCF Global Perspectives team. With the largest undergraduate student body in the U.S., UCF is playing an increasingly important role in expanding American awareness of and engagement in international cooperation. If there is any evidence that such a mission is vital at this time, it is the current pandemic – a threat to stability and security that recognizes neither borders nor concepts of sovereignty. As with other global challenges, the solution will require international partnership, something in which UCF is taking a leading role," said Kirby.
Kirby was the director of OTI from 2018-2021. Prior to that, he was appointed as the senior governance advisor in Kandahar Province, Afghanistan in 2009 and served as the senior adviser in the U.S. Department of State Bureau of Near Eastern Affairs from 2004-2009. Additionally, he held senior posts in the George W. Bush, Obama, and Trump Administrations. As a highly regarded Middle East expert, he played a key role working closely with an array of clients throughout in the Middle East, including top political leaders of Lebanon and the Palestinian Authority. Kirby specializes in governance issues, particularly political party development, public opinion polling and elections.
"The Middle East Studies Program (MESP) in particular is pleased to have someone with such a breadth of experience in the Middle East-North Africa region join us. His contribution to the MESP will be invaluable as he helped shape Middle East policymaking in Washington.  As such, he is capable of bridging the gap between academic studies and practice on the Middle East.  We look forward to Owen engaging with faculty and students," added Dr. Hakan Ozoglu, MESP Director.
Kirby has an extensive career in foreign policy including postings at the U.S.-Arab Chamber of Commerce, the International Republican Institute (IRI), and the American Business Councils of the Gulf Countries. He is the recipient of the Ghazi Mir Bacha Khan Medal presented by President Hamid Karzai and the late King Zahir Shah for services to Afghanistan. He is also a holder of the U.S. Department of State's Expeditionary Service and Superior Service Award.
"We are excited to have Owen on the UCF Global team. He has been a longstanding friend of UCF and GPII and will certainly contribute to our upcoming events and projects. Moreover, his knowledge and insight will be helpful as we continue to grow our programs and centers," stated David Dumke, Executive Director of UCF Global Perspectives and International Initiatives.
Kirby has visited UCF on several occasions and met with students, faculty, and community groups. In February, he was the guest speaker for Life at UCF, Learning Institute for Elders, where he delivered a successful and engaging virtual event on USAID and the American foreign assistance.