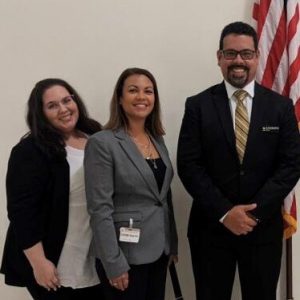 The UCF Puerto Rico Research Hub, founded by Dr. Fernando I. Rivera in wake of Hurricane Maria in 2017, has relocated from the College of Sciences to UCF Global. It will join the Office of Global Perspectives & International Initiatives (GPII) and continue to serve as the center of activities dedicated to the study of Puerto Ricans and expand UCF's footprint in the Caribbean.
The Research Hub's placement in UCF Global allows it to better serve the university as a whole, working with faculty and students from all colleges. It was created with the purpose of investigating, disseminating knowledge, and promoting creative solutions to pressing issues affecting the Puerto Rican population, its diaspora, and surrounding communities.
"We are grateful for the support of Provost Johnson, the College of Sciences, and the Department of Sociology for helping start and build the Hub. Our move to GPII/Global will allow the Hub to serve the whole campus community and continue to expand our research, student, outreach and partnerships missions," noted Rivera.
Dr. Rivera is also implementing a plan to grow the Hub, including adding new staff and launching new initiatives. Zoé Colón, who recently joined the GPII leadership team, will serve as a Senior Advisor to the Hub. Karen Solla, a Public Affairs Coordinator with GPII, will also work with Dr. Rivera's expanded team. Katie Coronado, an instructor with the Nicholson School of Communication and Media and GPII's Special Advisor for Latin America and Global Media, will support the Hub's communications efforts.
Colón is an established leader in the Puerto Rican and Latino community in Central Florida. She brings with her a wealth of experience working in education and with community groups – including Iniciativa Acción Puertorriqueña, La Mesa Boricua de la Florida, and Alianza for Progress, among others. She has worked at UCF for four years, previously serving as Community Partnerships Manager for the UCF Center for Higher Education Innovation. She possesses extensive experience in program development and delivery, fundraising, and advocacy, working with predominantly historically marginalized and underserved communities in Orlando and New York City over the past twenty years.
"We are excited to have Zoé as part of the team. She has invaluable experience that will enhance the mission of the Hub," Rivera stated.
The Hub is undertaking continual efforts to strengthen its connections to the Central Florida Puerto Rico community, as well as nationally, in Puerto Rico, and internationally. Rivera, Colón, and Solla recently conducted a "door-knock" visit to Washington, DC, where they met with Congress, members of the Biden Administration, the Puerto Rico Federal Affairs Administration, and representatives of think tanks. The Hub will sponsor a faculty visit to Puerto Rico in late August.
The Hub will expand services to help meet the needs of Puerto Rican and other Latino students, and other students interested in Puerto Rico and the Caribbean. It will also work with the University of Puerto Rico, grassroots organizations, and GPII's network of global partners on sustainability and climate change projects. Additionally, the Hub will increase its offerings of visiting lectures and special events – including a slate of activities scheduled for Hispanic Heritage Month (September 15-October 15). With the support of TD Bank Foundation and in collaboration with the Hispanic Chamber of Commerce of Metro Orlando (HCCMO), it will implement a business education initiative aimed at small Hispanic businesses.
"This academic year, the Hub continues its research on climate migration from Puerto Rico to the Central Florida region after Hurricane Maria, mentoring and providing research opportunities for students. We have several events and activities in support of our outreach and partnership efforts, including visiting with partners in Puerto Rico, New York, and Florida. We are also planning to share the results of the 1st Puerto Ricans in Florida survey," noted Rivera.
For more information, please visit the Puerto Rico Research Hub's website: https://ucfglobalperspectives.org/initiatives/puerto-rico-research-hub/.