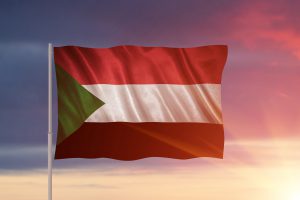 This article was first published by American University in Cairo's Cairo Review of Global Affairs. It was published as part of UCF's partnership with AUC, thanks to the generous support of Jonathan and Nancy Wolf.
On September 21, 2021, members of the Sudanese military attempted to overthrow the government of Prime Minister Abdalla Hamdok in a failed coup d'etat. The attempt was allegedly the product of soldiers and civilian politicians previously linked to former strongman Omar al-Bashir. Al-Bashir was deposed in a coup amid mass protests in April 2019, ending his 30-year regime which was itself initiated by a coup in 1989. Hamdok, who has presided over the country's transition as the head of a joint civil-military government, detailed the coupists' attempt to seize the television and radio station in Khartoum, but assured the public that the attempt was quickly nipped and the plotters arrested. The failed attempt, according to Hamdok, was one of many recent events aimed at destabilizing the country.
Naturally this latest event has quickly raised questions about the transition's durability (here, here, here, here). After all, similar democratic experiments in Sudan's history have fallen victim to coups – such as the 1989 coup by Omar al-Bashir and Hassan al-Turabi against the government of Sadiq al-Mahdi. In addition, observers have questioned the cohesion of the transitional government, pointing to an uneasy tension between its civilian body, composed of activists and technocrats, and its military body, composed of security actors who defected and removed al-Bashir in 2019. To be clear, these fears are not unwarranted as the civilian and military factions have initiated a war of words following the coup's failure. Despite the troubling fragmentation of the transitional government, failed coups are often a part of the democratization story – even amongst successful transitions.
While many observers have treated coups as an afterthought in recent years (here, here, here, here, here), 2021 has seen a bit of a revival of these events.  A failed coup occurred in Niger on March 31, when an air force unit attempted to seize power two days before the inauguration of President-elect Mohamed Bazoum. The military usurped the constitutional succession process after the death of Chadian president Idriss Deby on April 20. Mali experienced its second coup in nine months when on May 24, Colonel Assimi Goita supplanted Bah Ndaw, who himself had taken power in a coup in September 2020. Most recently, Guinean President Alpha Condé was ousted by a special forces unit in early September and the coup leader, Mamady Doumbouya, ascended to the presidency.
Various commentaries have sought to link these events given their proximity in time and space. For example, many observers have blamed the resurgence of coups on a perceived lack of response from the international community, especially regional actors such as the African Union. It is natural to try to interpret these events through the same general coup framework. However, whatever commonalities these countries might have, they are separated by a wide range of domestic political situations. Conde's removal in Guinea occurred after circumventing prior restrictions on term limits, a fate previously seen in the region by leaders such as Mamadou Tandja and—almost—Pierre Nkurunziza. Mali has seen itself fall victim to the coup trap after a 2012 coup derailed its 20-year experience with democracy. In contrast, Chad's coup, which saw the ascendance of Deby's son as the new head of state, can at least in part be interpreted as an effort to preserve a regime rather than change it.
So how does Sudan fit into these dynamics? After the 2019 coup against Omar al-Bashir, Sudan has seen various coup plots aimed at avoiding any sort of a transition. Whether it is coups that come about in the midst of executive aggrandizement, or coups that seek to return or preserve privileges of other elites,  a common theme throughout all of these events is the illegitimate effort to preserve authority. Thus far, Sudan has thus far avoided following Mali into the coup trap or Guinea into more explicit military rule. Aas it slowly moves toward assumed permanent civilian rule it is natural to compare the most recent coup attempt to Africa's other recent coups. However,  a more hopeful comparison can be found in the more distant past.
Chris Fomunyoh has aptly described the region's transitions as "democratization in fits and starts" and attempts to veto or reverse transitions from the armed forces are quite common. Even in the more successful cases. Following the 2014 removal of Blaise Compaore by mass protests against the leader's attempt to extend his tenure, Burkina Faso saw elements loyal to the deposed leader attempt a coup just prior to its 2015 election. However, rather than successfully preserving regime holdovers, the plotters faced pronounced opposition from civilians, both at the elite and mass level, causing the coup to unravel within a week and the conspirators to be charged. Transitional president Michael Kafando was reinstated  and Roch Marc Christian Kabore would go on to win the subsequent poll in November 2015. Kabore was the first president in nearly 50 years without any ties to the armed forces.
Mali's infamous transition—set in motion by Amadou Toumani Touré's coup against longtime dictator Moussa Traoré in 1991—was far from smooth. Similar to Burkina Faso's transition, an attempted coup by Lamine Diabira sought to derail Mali's liberalization. Diabira allegedly refused to hand power back over to civilians, placing him at odds with the rest of the transitional junta. However, his effort was squashed by forces loyal to Touré,  and following support from pro-democracy demonstrators Alpha Oumar Konaré emerged as Mali's first democratically-elected president.
In perhaps the most famous example of post-coup democratic transitions, Portugal saw the removal of Europe's oldest dictatorship at the hands of its armed forces in 1974. Though celebrated for initiating the country's transition to stable democratic rule, the path from coup to democratization was far from smooth or stable. Factions across the political spectrum tried to derail the transition and seize power for themselves. An attempted counter-coup in March 1975 by a far-right faction within the military sought to derail the transition but was thwarted. Similarly, leftist officers sought to establish a communist regime in November 1975 but were quickly subverted by forces loyal to General António Ramalho Eanes and the transitional government. Despite these veto attempts, the country's democratic system was able to consolidate and remains robust to this day.
Failed coups have acted as harbingers of future coups, have sparked civil wars, repression, and mass killings. And though unlikely to be associated with democratization at first glance, recent evidence has suggested that "perhaps counterintuitively, failed coups that target transitioning regimes may play a role in helping those regimes consolidate" by outing opponents, rallying support for the regime, and justifying various elements of security sector reform. Though the transitional government remains divided, both Hamdok and Abdul Fattah al-Burhan, its chief military figure, have set their sights on substantial army reforms to forbid partisan tendencies amongst active-duty soldiers. Recent protests against military rule also highlight that potential future coupists could also face significant pushback from the domestic population, as seen in 1991 Mali and 2015 Burkina Faso.
Rather than harbingers of continued praetorianism, these events have sometimes acted as signposts on the road to lasting civilian rule. Hopefully—years from now—we will be able to look back at Sudan's recent coup conspiracies not through the lens of coups, but rather through the lens of a successful democratic transition.
Jonathan Powell is an Associate Professor of Political Science at University of Central Florida.
Salah Ben Hammou is a Ph.D. student of Security Studies at the University of Central Florida.