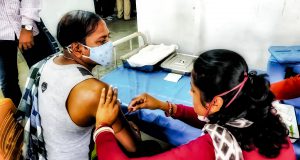 India has recently announced plans to restart the exportation of Covid-19 vaccines to neighboring and allied countries. India has been the largest exporter of vaccines during the pandemic with over 66 million vaccines donated or sold to countries before their second wave of cases hit earlier this year (Arora & Das, 2021). The government wants to increase output of Covishield, the branded name of their AstraZeneca vaccine, through both donation and overseas sale. As of now, projected production is estimated to be around 750 million vaccines, but other sources argue it could be more (Das, 2021). With increased manufacturing, India is also focused on vaccinating its own citizens. The government has plans to vaccinate all adult citizens by December this year, with 65% having already received a first and 22% having received two vaccinations (Das, 2021). Vaccine drives have been a major source of adult vaccination in the past months. In celebration of Prime Minister Modi's birthday, drives were hosted across the country and administered a record breaking 25 million shots (Yasir, 2021).
However, not everyone has been readily accepting of India's response to the pandemic both outside and within the country. Despite importing many vaccines from India, the United Kingdom only recently recognized Covishield after being called out for "discriminatory" practices (Sinha, 2021). Additionally, Covishield has not yet been officially approved by the European Union as acceptable for use (Saaliq, 2021). While the Indian government has expressed outrage over these "discriminatory policies," researchers within the country have also called into question the validity of India's scientific institutions. In the months before the 2021 state elections, government-appointed scientists released a study downplaying the possibility of a second wave. (Singh, 2021). According to a physician who had worked for India's leading scientific agency, reprimands were given to him and another scientist who expressed concerns, while others were forced to withdraw reports questioning the reliability of the study. These concerned scientists feared the government has been using science to further their political gains. As a result, these scientists believe the citizens of India were not prepared for the outbreak earlier this year.
In a country with an already underfunded healthcare system, India's homelessness and poverty has increased exponentially due to the outbreak. The public distribution system that gives out ration cards reached its quota, despite many citizens still struggling with starvation (Jaswal, 2021). This is because the quota is a direct response to the census, one that has not been updated since 2011. Moreover, for many residents the eligibility qualifications for ration cards cannot be met because of the inability to provide proof of residency, among other documents. In just the past year, officials have evicted over 250,000 residents from their homes without warning, according to Delhi-based Housing and Land Rights Network (Chandran, 2021). Therefore, some citizens cannot receive necessities for living because of governmental actions out of their control. The lack of resources was seen most prominently among healthcare facilities. Across the country, India struggled with full hospitals, lack of oxygen containers and vaccine shortages. Having to resort to second-party and black-market sellers, grieving families often were scammed when trying to obtain medicine to save a family member's life (Singh, 2021). Through all of this, some scientists believed the government manipulated science to fuel political gain. When researchers published a study determining a government lockdown would not stop the virus spread, it was promptly removed by the agency (Singh, 2021).
The government is hopeful in curbing the virus. With a recent study demonstrating the positive effects of the Covishield vaccine, and the influx of production and vaccination, India believes it can effectively inhibit another deadly wave (Balu, 2021). It has yet to be determined whether another wave of cases will surge in India. Though, with the festival seasons coming and schools beginning to open in-person, to many, it seems as if another tragedy could be around the corner.
Sources:
 Ahora, N. & Das, K. N. (2021, September 20). India to restart COVID vaccine exports to COVAX, neighbours. Reuters. https://www.reuters.com/world/india/india-resume-covid-vaccine-exports-next-quarter-2021-09-20/  
Balu, N. (2021, September 2). India has most COVID-19 cases in two months, worst- hit Kerala in focus. Reuters. https://www.reuters.com/world/india/india-reports-47092-new-covid-19-cases-biggest-daily-rise-two-months-2021-09-02/
Chandran, R. (2021, September 9). India evictions during COVID-19 a 'human rights crisis'. Reuters. https://www.reuters.com/article/us-india-landrights-eviction/india-evictions-during-covid-19-a-human-rights-crisis-idUSKBN2G50LO
Das, K. N. (2021, September 21). How India flipped its vaccine fortunes. Reuters. https://www.reuters.com/world/india/how-india-flipped-its-vaccine-fortunes-2021-09-21/
Jaswal, S. (2021, September 6). India denying subsidised food grains to millions of its poor. Al Jazeera. https://www.aljazeera.com/news/2021/9/6/india-poor-ration-card-food-grains-pds-poverty
Saaliq, S. (2021, September 21). India calls new UK COVID-19 vaccine rules 'discriminatory'. Associated Press. https://apnews.com/article/europe-business-health-india-coronavirus-pandemic-201562bd95beedadaffbd722668766a8
Singh, K. D. (2021, September 14). As India's Lethal Covid Wave Neared, Politics Overrode Science. The New York Times. https://www.nytimes.com/2021/09/14/world/asia/india-modi-science-icmr.html
Sinha, S. (2021, October 8). End of stalemate: Indians fully vaccinated with Covishield won't have to quarantine from October 11. The Times of India. https://timesofindia.indiatimes.com/india/end-of-stalemate-indians-fully-vaccinated-with-covishield-wont-have-to-quarantine-from-october-11/articleshow/86846532.cms
Yasir, S. (2021, September 20). India boosts its Covid vaccine drive with 25 million shots given on Modi's birthday. The New York Times. https://www.nytimes.com/2021/09/17/world/asia/india-covid-vaccine-modi-birthday.html