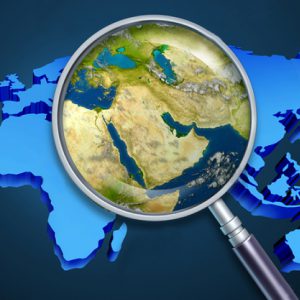 December 2, 2021 from 11:00AM – 12:15 PM
UCF Global Perspectives and International Initiatives at the University of Central Florida in partnership with the School of Global Affairs and Public Policy at the American University in Cairo is launching the 2nd installment of an ongoing series of Future U.S.- Arab Relations.
This virtual event features His Royal Highness Prince Turki Al-Faisal, former Saudi ambassador, former intelligence chief, and Chairman of the Board for King Faisal Center for Research and Islamic Studies; and the Honorable Leon E. Panetta, U.S. Secretary of Defense, Director of Central Intelligence Agency, Chief of Staff to President Bill Clinton, Director for U.S. Office of Management and Budget, and Co-founder of Panetta Institute for Public Policy.
Join the ongoing discussion on the future of U.S.-Arab relations. In a rapidly changing global and regional context, what are the expectations of each side for cooperation? How will the U.S. and Arab nations mitigate new security threats and manage emerging challenges? Will the U.S. continue to play a leading role in regional affairs?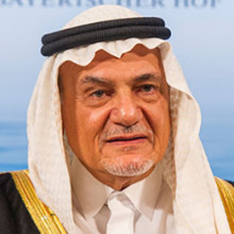 HRH Prince Turki Al-Faisal Al-Saud
His Royal Highness Prince Turki Al-Faisal was born on February 15, 1945 in Makkah, Saudi Arabia. HRH began his schooling at the Taif Model School and then went on to complete his high school diploma at the Lawrenceville School in Princeton. HRH went on to study at several universities including Georgetown University, class of 1968.
His Royal Highness was appointed as an Adviser at the Royal Court in 1973. In 1977, HRH was appointed Director General (with a rank of Minister) of the General Intelligence Directorate (GID), Saudi Arabia's main foreign intelligence service. HRH served as the head of the GID until August 2001.
In October 2002, HRH was appointed as the Saudi Arabian Ambassador to the United Kingdom and Republic of Ireland where he served until his appointment in July 2005 as Ambassador to the United States. He retired in February 2007.
His Royal Highness is a founder and trustee of the King Faisal Foundation as well as the Chairman of the King Faisal Centre for Research and Islamic Studies.
HRH is also a Trustee of the Oxford Islamic Center at Oxford University and the Center for Contemporary Arab Studies (CCAS) at Georgetown University. He is a member of the Board of Advisors of the Munich Security Conference.
HRH is the recipient of the Crans Montana Forum medal which is awarded on exceptional occasions and by special decision in recognition of successful achievements in favor of a more humane world. In 2010 he received an honorary PhD in law from the University of Ulster in Ireland and in 2011 he was awarded an honorary PhD in international politics from the University of Hankuk in Korea.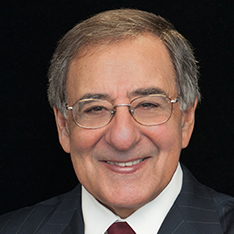 The Honorable Leon E. Panetta
Co-founder of the Panetta Institute for Public Policy, Leon Panetta returned to the Institute on February 27, 2013, after serving as the 23rd Secretary of Defense. A Monterey native and Santa Clara University School of Law graduate, Mr. Panetta began his long and distinguished public service career in 1964 as a First Lieutenant in the U.S. Army, and upon discharge went to work in Washington as a legislative assistant to U.S. Senate Minority Whip Tom Kuchel of California. In 1969, he was appointed director of the U.S. Office for Civil Rights, where he was responsible for enforcing equal education laws, and later he served as executive assistant to the mayor of New York City. He then returned to Monterey, where he practiced law until his election to the U.S. House of Representatives in 1976.
Serving his Central Coast district in Congress for 16 years, Mr. Panetta was a key participant in agriculture, healthcare, marine and federal budget issues, and from 1989 to 1993, he chaired the House Budget Committee. He authored a wide range of legislation, including the Hunger Prevention Act of 1988, Medicare and Medicaid coverage for hospice care for the terminally ill, and numerous measures to protect the California coast, including creation of the Monterey Bay National Marine Sanctuary.
In 1993, Mr. Panetta left Congress to serve as director of the Office of Management and Budget for the incoming Clinton administration. There, he was instrumental in developing the policies that led to a balanced federal budget and eventual budget surpluses. In 1994, he accepted appointment as the President's chief of staff, and immediately brought order and focus to White House operations and policy making. Upon leaving the Clinton administration in 1997, Mr. Panetta joined with his wife Sylvia to establish and co-direct the Panetta Institute for Public Policy, based at California State University, Monterey Bay.
Reflecting Mr. Panetta's own ideals and personal example, the nonpartisan, not-for-profit study center seeks to attract thoughtful men and women to lives of public service and prepare them for the policy challenges of the future. In addition, Mr. Panetta developed programs for the Institute, such as its Leon Panetta Lecture Series, Congressional Internship Program and Leadership Seminar, that help to inform Americans about the critical issues facing our communities, states and nation in the 21st Century. Institute programs also aim to inspire a deeper engagement in the democratic process while simultaneously setting a public example of service and commitment.
Returning to public service in the Obama Administration as director of the CIA, he ran the operation that brought Osama bin Laden to justice, and, as Secretary of Defense, led the effort to develop a new defense strategy, helping bring two wars to an end, and opened up opportunities for everyone to serve in the military. Mr. Panetta chronicles his life in public service in his memoir Worthy Fights, which was published by Penguin Press in the fall of 2014. Over the years Mr. Panetta has served on numerous boards and commissions. He co-chaired California Forward, the Joint Ocean Commission Initiative and Governor Schwarzenegger's Council on Base Support and Retention. In 2006, he served on the Iraq Study Group, a bipartisan national commission seeking a new course for the war in Iraq. In 2016, Mr. Panetta launched the CSIS Commission on Countering Violent Extremism, which he co-chairs with former Prime Minister Tony Blair.
Mr. Panetta is the recipient of many awards and honors. His most recent awards include: the California Teachers Association's "Friends of Education Award"; the Judicial Council of California's "Stanley Mosk Defender of Justice Award"; "The Harry S. Truman Good Neighbor Award"; the Sons of Italy Foundation's "National Education & Leadership Award"; the "Peter Benchley Ocean Award for Excellence in Policy"; and the Intelligence and National Security Alliance's "William Oliver Baker Award".
This is a public forum, all are welcome to attend.
++++++++
Registration is required, please sign up at this, link.
Download the event flyer, here.
Please view the UCF Calendar event, here.
This event will be recorded and a link provided to registered participants.