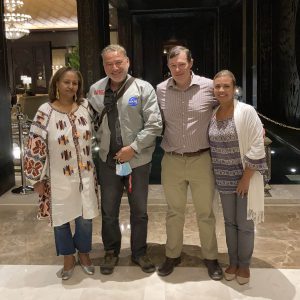 The University of Central Florida's UCF Global Perspectives & International Initiatives and El Karama, an NGO based in Cairo, Egypt, have agreed to jointly establish a "Global Women's Thinktank." Based at UCF, this thinktank will promote the work of Karama and its partners, raising awareness about key women's issues in the Middle East-North African region, Africa and globally. The Karama-GPII partnership will study and support activities aiming at ending violence against women and promoting women's participation in government, civil society, and academia.
"Just as we were activists demanding to be able to take control of our lives and destinies, we wanted to take control of the narrative and stories about us. We wanted to collect the data, conduct the research, and develop the policy papers. The partnership between UCF and Karama achieves this goal. It brings the expertise and experience of truly remarkable women from Africa, the Middle East, and across the world, together with the academic rigor and outstanding credentials of UCF," stated Hibaaq Osman, founder and CEO or Karama.
"We are honored to join with Karama to create a new center that will address not only issues important to women, but to society. I have long admired the amazing work of Karama and its partners throughout the MENA region, and I hope through this partnership the UCF community is able to contribute to the ongoing success of these grassroots organizations," added David Dumke, GPII Executive Director.
Established in 2005, Karama operates throughout the Arab region and has offices in Cairo and Amman, Jordan. Karama has built a strong coalition with hundreds of partners in thirteen countries – including Egypt, Iraq, Jordan, Lebanon, Libya, Morocco, Palestine, Somalia, South Sudan, Sudan, Syria, Tunisia, and Yemen. The key to the organization's success has been building broad country-wide and regional networks to address key issues – working with women, men, youth, academics, activists, community leaders, politicians, parliamentarians, and others in an effort to end and reform discriminatory laws and practices and promote women's advancement, security, and protection in all aspects of public and private life.
Through the thinktank, GPII and Karama will explore opportunities for collaboration in research, knowledge exchange, teaching and learning. It will also work on capacity building, pursue grants for academic research and special initiatives, and seek funding through private donors. The thinktank is expected to serve an informational function, disseminate knowledge through sponsorship of conferences and events, and engage with public and private sector leaders.
"I am honored to work alongside Karama and its renowned leadership in advocating for justice and equity for women across the world.  I am committed to the cause and look forward to UCF and Karama's collaboration and contributions to women's issues" said Zoé Colón, GPII Associate Director, who will lead UCF efforts to implement the partnership with Karama. Colón recently visited Cairo, where she met with Osman to discuss the project. She will work with university and other partners on the project.
Karama has affected policymaking at the national, regional, and international levels. Many of the organization's recommendations have been adopted into new and existing constitutions in the MENA region, as well as official recommendations made to the state by international bodies such as the UN.  Karama has led a growing movement to end violence against women and promote women's participation across the Arab region. Karama has also established networks, institutions, and constituencies to promote ideas and build support for positive change for women across the region through a period of extraordinary flux.
UCF Global Perspectives & International Initiatives serves as a think tank that supports international programs and centers, organizes and sponsors interdisciplinary activities, and launches strategic subject-area initiatives. GPII's activities include informational events, speaker series, strategic conferences, collaborative research, broadcasts, publications, and strategic partnership-building. GPII coordinates with colleges, faculty, staff, and community members to create and enhance international opportunities through partnership-building. It also collaborates with national and international partners on projects, publications, research, events, and initiatives.
"We are so excited for the potential of this partnership between Karama and UCF. When we started the Think Tank for Arab Women in 2010 as the first women-led international research institute, it was to address a huge gap in the world of policy. Research into our region and our work was thin on the ground, and where it was carried out by researchers parachuted in, with terms set by external bodies rather than women on the ground. If we want to address the challenges we face across the world, we need to support communities to develop indigenous solutions. This partnership between the Global South and Global North, activism and academia, represents the best means of achieving the change we need," noted Osman.
For additional information, please contact Karen Solla at Karen.Solla@ucf.edu.
To learn more about Karama and its work, please visit http://www.el-karama.org/welcome.