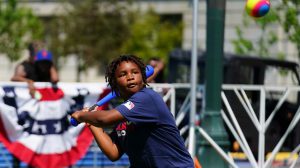 The University of Central Florida Puerto Rico Research Hub (Hub) will host the first annual "Puerto Rico Baseball Day" on Saturday, March 26. The Hub is partnering with Major League Baseball, the UCF Athletic Department, UCF Baseball, and UCF Global on this special day, which recognizes and celebrates Puerto Rico's rich baseball heritage, Florida's unique connection to baseball, and the Central Florida Puerto Rican community. Puerto Rico Baseball Day will feature a youth baseball clinic, a special moderated discussion on the Puerto Rican baseball experience, and special recognition during UCF's home baseball game against Samford. All events will be held on the UCF campus.
"Every spring 15 MLB teams train and participate in Florida's Grapefruit league. It made sense to take advantage of this yearly opportunity and connect with MLB to provide some of the activities we have planned for the Puerto Rico Baseball Day," stated Dr. Fernando Rivera, the founder and Director of the UCF Puerto Rico Research Hub.
The day will kick off with a special "Play Ball" clinic for youth run by Major League Baseball. The clinic will include instruction from Puerto Rican-born former Cleveland Indians All-Star Carlos Baerga, Olympic softball player Eve Soto, and former Women's World Cup and professional baseball player Diamilette Quiles. The clinic is open to kids ages 5-12, and is free of charge although pre-registration is required. The clinic, which will be held at the UCF Softball Complex on campus, starts at 2:30 pm, with check-in starting at 2:00 pm. The Softball Complex is located at 4055 Home Run Ct., Orlando, FL 32816.
After the clinic Baerga, Soto, and Quiles will participate in a discussion moderated by Dr. Fernando Rivera. The discussion will focus on these players' experiences in baseball and softball, Puerto Rico's influence on the game, and its cultural importance on the island and among Puerto Ricans living on the U.S. mainland. The discussion is open to the public and media. The audience will also have an opportunity to ask questions.
Finally, the UCF Knights baseball team will host Samford at 6:00 pm at John Euliano Park on campus. The game will have a Puerto Rican theme. Baerga, who had 1,543 hits in the big leagues and later coached professionally in Puerto Rican league, will throw out the ceremonial first pitch. The Puerto Rico Research Hub will provide a limited number of free tickets, with donations encouraged. Tickets will also be for sale at the stadium.
Zoe Colon, Senior Advisor to the UCF Puerto Rico Research Hub adds, "we are excited to provide an opportunity for the community to come to campus to participate in the various events of the day. We hope that the Puerto Rico Baseball Day becomes a yearly tradition to celebrate Puerto Rico and cheer on our Knights"
The state of Florida is now home to more than one million Puerto Ricans, the majority of whom live in Central Florida. UCF is a federally-designated Hispanic Serving Institution, with 27.5% of the student population Hispanic. The bulk of these students are Puerto Rican. A significant growth of the Puerto Rican population in Florida happened after the devasting effects of Hurricane Maria in 2017. At that time, MLB and Puerto Rican players provided aid and supported the recovery of the island. Several players with ties to the Central Florida region where instrumental in using baseball as an activity to unite and provide some mental relief for those affected by the storm.
"We are deeply appreciative of Major League Baseball, UCF Athletics, and UCF Baseball for their support of this important day. This day is about more than baseball, it is about celebrating Puerto Rico's culture, our community's diversity and how sports – especially baseball – can bring people together. March 26 is an opportunity to highlight UCF's ties to the Puerto Rican community," added David Dumke, Executive Director of UCF Global Perspectives & International Initiatives.
For those who are interested in participating, register using this link:
tinyurl.com/prrh-baseball-day-2022.
Any questions should be directed to: 407.823.0688 or global@ucf.edu.