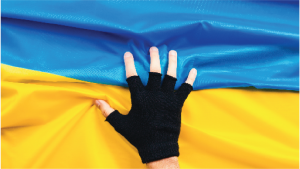 September 7, 2022  at 10:00AM
Barbara Ying Center (BYC), Room 101
Please join the UCF Center for the Study of Human Trafficking and Modern Slavery and our guest, Shawn Sullivan, President of Mission 823, for a discussion on the current humanitarian and human rights situation in Ukraine.
Mission 823 is actively involved in the reduction and elimination of human trafficking in Eastern Europe through prevention, rescue and restoration efforts. Following the Russian invasion of Ukraine, Mission 823's has directed its efforts at providing humanitarian assistance to civilians in a broader capacity. Join us to hear Shawn's account of what he has seen on the ground in Ukraine as his organization has located and rescued civilians in conflict areas; provided safe transport of evacuees and refugees; provided housing and shelter; and provided food, clean water, medical care and humanitarian aid.
About Mission 823: Mission 823's mission is to relieve the suffering of vulnerable children in all at-risk categories in Eastern Europe. Its chief target is to provide loving families that are safe, stable and permanent for children who have been deprived of these opportunities. Mission 823 engages governments, local authorities, national NGO's, churches, and international non-profits to be an advocate for the voiceless. https://www.mission823.com/
++++++++
This is a public forum, all are welcome to attend.
Registration is required, please register here. 
Please view the UCF Calendar event, here.
Please download the flyer, here.