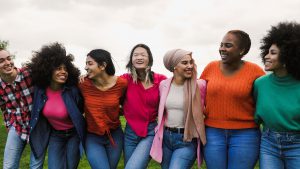 Wednesday, October 19, 2022, 11:00am – 12:30pm
Virtual Event via Zoom.
The UCF Office of Global Perspectives and International Initiatives (GPII) is excited to announce its upcoming virtual event: "Championing Women's Issues Across UCF & Beyond." The panelists, comprised of UCF Faculty, will highlight their work on women's issues locally and globally, and its importance.
This event is organized as part of GPII's new initiative, the Global Women Think Tank (GWTT) which aims to advance women's rights through research-informed work, leadership development, and strengthening institutions' infrastructure.

Speakers:

Dr. Anne Bubriski is the Interim Director of the Women's and Gender Studies Program and the Director of the Science Leadership and Mentoring (SLAM) at the University of Central Florida. SLAM is a mentoring program between UCF women students and 7th grade girls focusing on leadership, empowerment and STEM. Dr. Bubriski has secured grants for SLAM from the American Association of University Women, Wells Fargo, and UCF-Seed Grants. Dr. Bubriski's research and teaching focus on social inequalities and social justice, women and leadership, and girls' studies with a forthcoming anthology Powerful Women: Leading Future Change. In her classes, Dr. Bubriski partners with community organizations such as March of Dimes, Florida Farmworkers Association, Planned Parenthood, Generation W among others for service/activist-learning experiences for her students.

Dr. Leandra Preston-Sidler began teaching English and Composition at UCF in 2002. In 2004, she accepted an opportunity to teach Women's Studies, which is now Women's and Gender Studies. In 2007, she founded a non-profit organization, Animal Safehouse of Brevard, a network of volunteers who foster pets for women in domestic violence shelters. She earned her PhD in Spring 2015 in Texts and Technology, focusing on beauty technologies, gender, and virtual communities. She is now Senior Lecturer in Women's and Gender Studies and was the first full-time Women's and Gender Studies Instructor at UCF.

Dr. Fernando I. Rivera is a Professor of Sociology and Director of the Puerto Rico Research Hub at the University of Central Florida. He has previously served as Interim Assistant Vice Provost for Faculty Excellence, UCF Global Faculty Fellow and Provost Faculty Fellow. He has also served in different taskforces related to Accelerating Latino Student Success and Hispanic Serving Institutions. His research interests and activities are in the sociology of health/medical sociology, disasters, and race and ethnicity. His published work has investigated how different mechanisms are related to certain health and mental health outcomes with a particular emphasis on Latino populations.  His disaster research has explored the investigation of factors associated with disaster resilience, restoration and resilience in coupled human-natural systems, and climate migration. Other publications have investigated the Puerto Rican diaspora in Florida. He has co-edited Disaster Resilience: Interdisciplinary Perspective (2012), co-authored Disaster Vulnerability, Hazards, and Resilience: Perspectives from Florida (2015), and edited Emerging Voices in Natural Hazards Research (2019). He was guest editor for a special issue of Population and Environment on Puerto Rico before and after Hurricane Maria and the Journal of Emergency Management titled Analysis of Pre and Post Disaster Management and Recovery in Puerto Rico from Hurricane Maria. He recently participated in a UCF Fulbright-Hays GPA Short Program titled A Woman's Place: Language and Culture Alive in Argentina. He earned his M.A. and Ph.D. in sociology from the University of Nebraska-Lincoln and his B.A. degree in sociology from the University of Puerto Rico-Mayagüez. He also completed a NIMH sponsored post-doctoral fellowship at the Institute for Health, Health Care Policy, and Aging Research at Rutgers University.

Dr. Yara M. Asi is an Assistant Professor at the University of Central Florida in the School of Health Management and Informatics and a Visiting Scholar at the FXB Center for Health and Human Rights at Harvard University. She is also a 2020-2021 Fulbright US Scholar and a Non-resident Fellow at the Arab Center Washington DC. Her work focuses on health, development, and human rights in fragile and conflict-affected settings.
++++++++
Event is free and open to the public.
Please register in advance, here.
Please view the UCF Calendar event, here.
Please download the flyer, here.