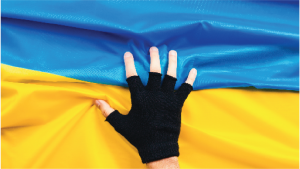 Last February, Russia launched a full-scale invasion of Ukraine with the invent of subjugating Kiev. Russian President Vladimir Putin envisioned restoring some of the lost luster of the Soviet Union – and Russian Empire before it. He also saw it as a way of testing the resolve of Washington and its NATO allies, particularly in wake of a series of divisive elections in the United States and Europe which suggested a loss of purpose. In Putin's mind, swallowing Ukraine would spark a patriotic upsurge in Russia itself, while once and for all thwarting Kiev's longstanding flirtation with NATO. The initial Russian invasion scored successes, particularly in the areas of Eastern Ukraine including the Donbas region, long claimed by Moscow. However, events have not transpired as Russia hoped.
There is little doubt that the chaotic pullout of American troops from Afghanistan influenced Putin's decision to invade Ukraine. The inglorious end to the 20-year military and country-building engagement seemed to put an explanation point on President Biden's weakness and Washington's wavering international commitments. America's British allies faced considerable political turmoil at home, which included three prime ministers in 2022 alone. Germany had a new and untested leader. The world itself suffered to pull itself out of a COVID-induced economic slump. High energy prices buttressed the Russian economy.
Putin had already successfully invaded and annexed large parts of Donbas and the Crimean Peninsula in 2014, without serious intervention from the West. He had also successfully overseen conflicts in Chechnya and Georgia. He inserted himself into the Syrian conflict, and is credited with saving the embattled Assad regime. He had strengthened Russian relations in Eastern Europe, including with Hungary. And Russian influence expanded – at relatively low cost – in the Middle East and Africa. Finally, in 2019, Ukraine had elected an untested comedian as President of a perennially dysfunctional government which alternated pro-Western and pro-Russian presidents. With a significantly stronger military and far more manpower, one can understand Putin's cold-blooded calculations.
Much has happened since February 24, 2022. Rather than further split NATO, the invasion gave the alliance a renewed sense of purpose. NATO expanded, as the formerly stalwart neutral nations of Sweden and Finland joined the Brussels-based union. Ukraine's Vladmir Zelensky became the man of the moment, Time magazine's Man of the Year. In December, he delivered a Churchill-esque speech to a joint session of Congress. Biden has demonstrated considerable leadership, which some suggest has restored America's diminished international luster. Most importantly, the Ukrainian people – depicted by Moscow as having divided loyalties and strong historic ties to Russia – rallied to the cause. Its army has pushed Moscow's forces back at an enormous cost in terms of Russian troops and material.
The war is a long way from over, and predictions of Russian defeat are far too premature. But this is not the cakewalk Putin envisioned. Russia still holds a strong hand, and it would be foolish to depict her as anything but the favorite in a long, drawn-out conflict. Yet wars are not usually won and lost based solely on overall strength and weakness, but on how much one side is willing to pay in order to achieve its goals. Vladimir Putin remains resolute, but there is much evidence to suggest he would opt for a face-saving way out if such as solution could materialize either by limited victory on the battlefield or diplomatic bargaining. Of late he seems intent of destroying Ukrainian infrastructure, weakening Kiev to a point at which is cannot operate effectively as an independent nation. Despite drone, missile and airstrikes, this seems unlikely to break Kiev's will at least in the foreseeable future.
On April 12, the Office of Global Perspectives & International Initiatives will host a very special guest in retired Lt. Gen. Ben Hodges. Hodges, a Florida native, is the former commander of U.S. troops in Europe. He has served in a number of positions as an expert on U.S. and European security matters, and has spent much time in the last year talking to policymakers and the media about the Ukrainian conflict, Russian military tactics, and what it all means for Europe and the United States. His visit to Orlando gives our campus and community a unique opportunity to engage with one of the most insightful voices monitoring this critical international challenge – a challenge which has had deep impact on global energy and food prices. Hodges' visit comes on the heals of other Ukrainian-oriented programs supported by UCF and our partners, including a high-profile visit of the Ukrainian National Ballet last August.
GPII's job is to help facilitate dialog on important international challenges, including security issues, education, culture, and resources sustainability. As such, we are excited to kick off another year of unique programming which we hope will engage, interest, and educate us all about the global community. Please stay tuned for our upcoming events, and join us when Gen. Hodges comes just a couple months from now.
David Dumke is the Executive Director of the University of Central Florida Office of Global Perspectives & International Initiatives.